jackie sumell. The Abolitionist's Field Guide
The Abolitionist Field Guide
is an interactive workbook and reader that teaches abolitionist strategy through the lived experience of plants, their natural relationships, and the stories they tell. "Sometimes those teachings are direct perceptions, sometimes they are metaphors," sumell writes. "Abolition, like growing a plant, requires daily attention and care."
This publication accompanies the MoMA PS1 Exhibition, 'Freedom to Grow: Lower East Side Girls Club & jackie sumell' on view Nov 17, 2022 - Feb 27, 2023.
jackie sumell is a multidisciplinary artist and abolitionist whose work is an expression of gratitude for her elders, fueled by relationship to the natural world. Anchored at the intersection of activism, social practice, ritual, and mindfulness for nearly two decades, she has shared this work extensively throughout the world. sumell has been the recipient of residencies and fellowships from the Marguerite Casey Foundation, S.O.U.R.C.E. Studio Fellowship, A Blade of Grass, Robert Rauschenberg Artist-as-Activist Fellowship, Soros Justice Fellowship, Eyebeam Fellowship, Headlands Residency, Schloss Solitude Residency, and more. sumell's long term collaboration with Herman Wallace was the subject of the Emmy Award-winning documentary Herman's House and the driving force behind her abolition-centered practices. She is based in New Orleans, Louisiana, where she continues to work on Herman's House, Solitary Gardens, The Abolitionist's Apothecary+, and several other community generated, advocacy-based projects.
This book was made possible with support from The Creative Capital Foundation, Art for Justice Foundation, & S.O.U.R.C.E. Fellowship, it is an offshoot of: The Abolitionist's Apothecary.
Growingabolition.com
jackie sumell | 2022 | Paperback | 8 x 5.5 in | 96 pgs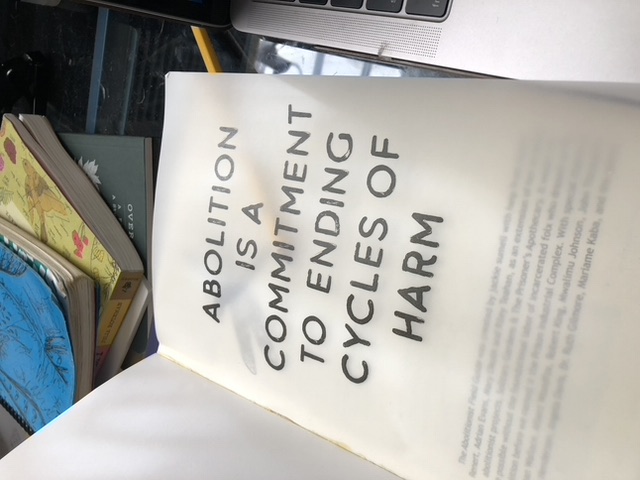 Umar Rashid

"Umar Rashid: Ancien Regime Change 4, 5, 6" is on view at MoMA PS1
September 22, 2022 to March 13, 2023.

---
4:18 Divine Rule. Eric B. is president at last.




Artist Umar Rashid produced T-shirts on the occasion of his new solo exhibition at MoMA PS1. There are two versions, based on his paintings included in the exhibition.

"Lord Eric B. wasn't the best candidate for the position of ruler of Novum Eboracum, but his ascension was made possible by his popularity with the youth and fringe elements of the revolutionary society. It was also due to the powerful countenance of his right-hand man- the warrior/sage Rakim- as well as his powerful orations and esoteric teachings on repurposing the colonial language and mathematics to reflect the changing demographics of the city. Eric B. was no great military strategist and left Servillus, the head of his praetors, full reign to carry out brutal reprisals and police actions against his detractors, thus tainting his image. He and Rakimwould part ways eventually, but his government continued until the end of the war."

Umar Rashid. Rodin, Rodan. The mastermind plots beneath the earth as the destroyer reigns supreme above it. Can Doom save us from the Monster 0?


Artist Umar Rashid produced T-shirts on the occasion of his new solo exhibition at MoMA PS1. There are two versions, based on his paintings included in the exhibition.

"In the beginning of the revolt, the objective was simple: end colonial rule all together. That matriculated into nominal colonial rule and broke down even further as time passed. Once the civil war began, the original impetus was largely ignored or forgotten and the combatants squabbled for the pettiest of gains. Meanwhile, across the ocean, the Frenglish Republican government had put down the last of the insurrections against its body. Jeroen the Just, the Frenglish King of Novum Eboracum (in name only), living in exile, informed the government of his plan to retake the city and the colony. He was supplied with the material and people power needed for the task, along with a new mandate for scorched earth tactics above all else. He became their doom. Hic sunt dracones. Sint monstra."

Edited by Klaus Biesenbach, Bettina Funcke eds. MoMA PS1: A History


Since its inception in the early 1970s, MoMA PS1 in Long Island City, Queens, has been a crucible for radical experimentation. Committed to New York City as well as to maintaining an international scope, PS1 has always put the artist at the center, engaging practitioners at work in every discipline from performance, music, dance, poetry and new media to painting, sculpture, photography and architecture. This groundbreaking publication captures the vibrancy of a long and venerable tradition that began with the legendary series of performances and events organized by founder Alanna Heiss under the Brooklyn Bridge in 1971.

The Museum of Modern Art, New York | 2019 | Hardcover | 9 x 10.5 in | 304 pgs