Carroll Dunham:
Green Period
(JRP | Editions)

SIGNED



Signed during the book launch of 'Green Period.' published by JRP Editions, on November 11, 2023.

Artist Carroll Dunham, curator Dan Nadel, and artist Mary Simpson were in conversation at Artbook @ MoMA PS1 Bookstore.

***

Born in 1949, Carroll Dunham lives and works in New York and Connecticut. Since the 1970s, he has developed a formal mastery of line, texture, and color to continually engage with new and recurring modes of art making. Drawing on the art historical canon as well as on pop culture, he revisits enduring themes that comprise our existence while simultaneously exploring the formal attributes of painting. He has shown at international institutions including Denver Art Museum, Denver; Museum Ludwig, Cologne; Millesgarden, Stockholm; Drammens Museum, Drammen, Norway; a mid-career retrospective was held at the New Museum of Contemporary Art, New York, in 2002.

Dan Nadel is the Curator-at-Large for the Lucas Museum of Narrative Art, and a co-curator for a large-scale rethinking of the art history of the 1960s at the Whitney Museum of American Art (March 2025). Nadel was the co-editor of The Comics Journal from 2011 through 2017 and has published essays and criticism in Art in America, the New York Review of Books, and Artforum. Nadel is currently at work on the biography of Robert Crumb (Scribner, 2023).

The work of New York based artist Mary Simpson is influenced by the mythological and psychological notion of allegory, in particular as it relates to painting as both a practice and concept. Inspired by historical symbolism and legend, she interweaves narrative with explorations of light, color and time—visually reinterpreting the "parody" of allegory. Simpson's work has been shown at Bortolami, On Stellar Rays, Rachel Uffner Gallery and Simone Subal, among others. She teaches at Cooper Union, Columbia University and George Washington University.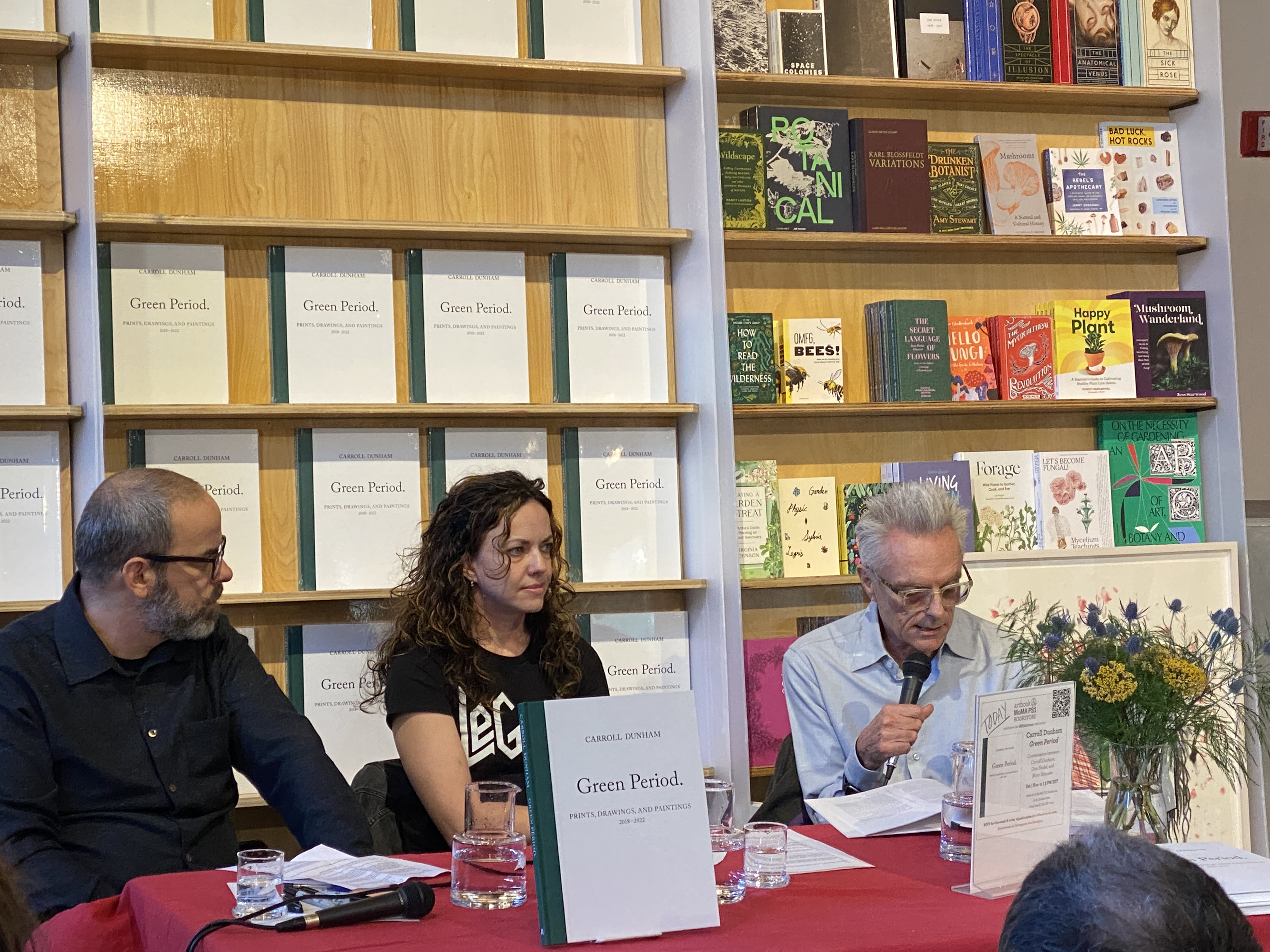 Themes of intimacy, race, sex and mortality seen through the prism of a single color

Focusing on the artist's pivotal "Green Period.," this publication compiles prints, drawings and paintings by New York–based artist Carroll Dunham (born 1949) between 2018 and 2022. Using the color green as a pictorial and expressive tool, Dunham explored the quality and concept of "green" through images of figures in an archaic world of his own making. In these "figurative" works, Dunham explores intimacy, race, sex, aging, and his own graphic and painterly languages.
Lavishly illustrated and designed, the publication features three newly commissioned essays: the curator and editor of the publication Dan Nadel writes on cross-media processes, and how the "Green Period." fits into the artist's history; artist Mary Simpson situates these works in the context of surgical theaters and the visualization of sex; and Dunham himself explores colors, narratives and the conceptual and formal background of these works. This definitive volume on one of the most thought-provoking painting series of the last decade offers a profound meditation on the nature of human existence in the 21st century.

Hardcover | 9.5 x 12 in. | 136 pgs | 115 color. | $ 45